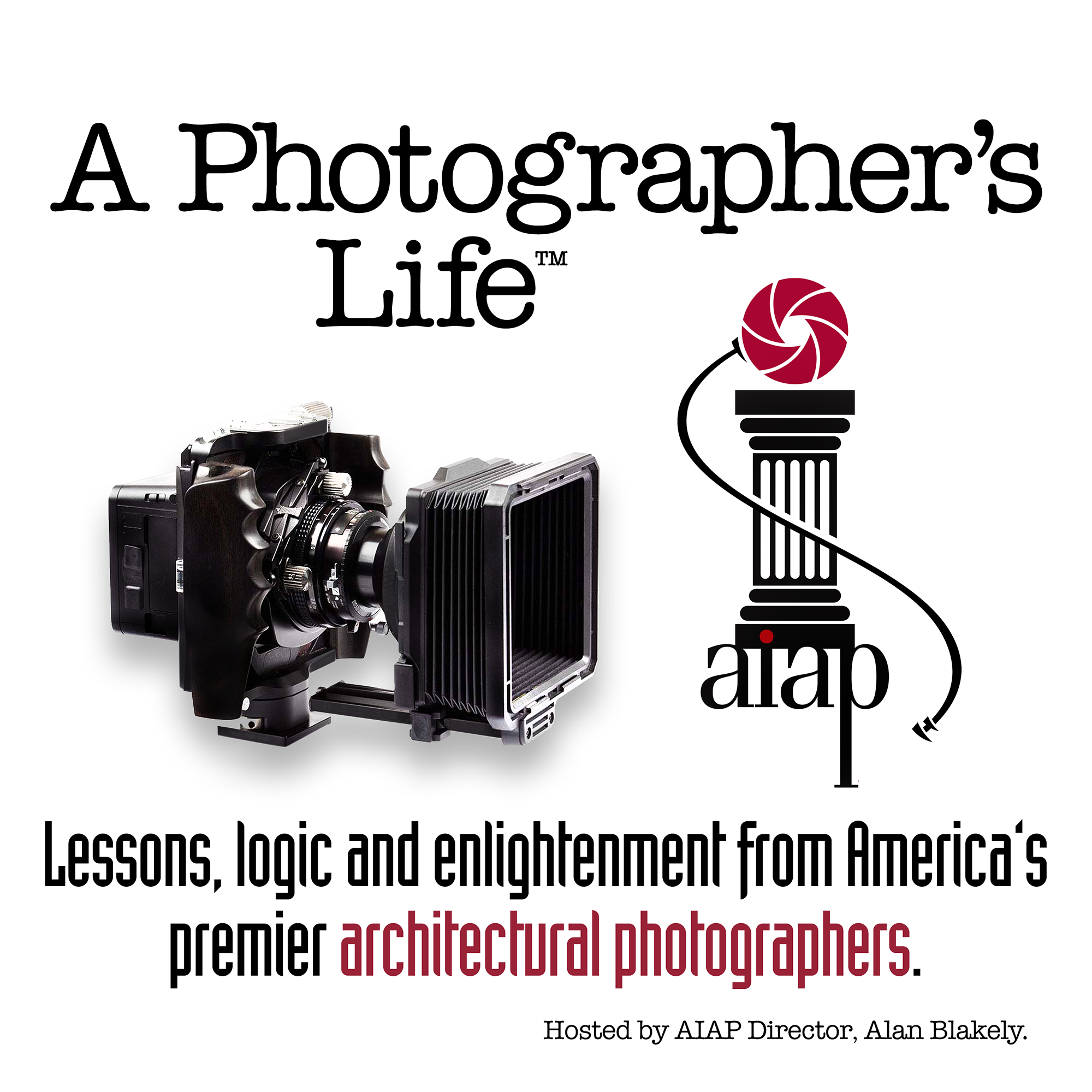 A Photographer's Life™ interview with award-winning architecture photographer Brian Dressler. Brian is a veteran photographer based in Columbia, South Carolina, and a long-time member of The Association of Independent Architectural Photographers™ (AIAP).
In this episode's interview by AIAP director Alan Blakely, Brian discusses a wide range of subjects relating to his 42-year career as a professional photographer, including:
• Brian's education in photography, his mentors and influences, and his advice for starting a photography business.
• Brian's early photography assignments, including product illustration and corporate photography.
• His introduction to the photography of architecture and interiors.
• The challenges and techniques of shooting architecture on film, lighting for architecture, film processing, and production, and working with large format cameras.
• The hybrid era of using both film and digital formats, including scanning, Photoshop processing, and large format printing.
• The professional transition to digital format, including camera and lens choices and his progression to using Nikon DSLR camera with PC (perspective control) Nikkor lenses. Like all professional architecture photographers, Brian routinely corrects distortion and converging verticals in the camera.
• Techniques for photography of architecture using digital format, including layering, compositing, and HDR. Brian also discloses his technique for his famous city skyline photographs.
• A conversation about lens choices in architecture and interior photography. Brian expresses his preference for longer rather than wider lenses when shooting architectural subjects. Brian and Alan discuss their common philosophy about the aesthetics of lens choices and their effect on the viewer.
• Brian divulges his formula for cost-sharing and licensing among multiple parties. Brian's simple formula allows an architect, builder, designer, etc., to share costs for photography of a project and obtain a non-transferable license to use the photos as long as they wish.
• Brian is a stickler for licensing his photography and offers some valuable wisdom regarding copyright protection. Brian advocates registering all professional photographs with the United States Copyright office. This allows the photographer to easily recover damages in the event that his photographs are used without licensing or consent.
Brian's photography can be viewed at his website: www.briandressler.com. Brian can also be reached by telephone at (803) 254-7171.
The Association of Independent Architectural Photographers™ was established in 2001 and is an Internet-based trade association with one primary purpose: To promote the professional success of established independent architectural photographers. Membership in the AIAP is open to full-time professional architectural photographers. You can find the AIAP online at www.aiap.net. © 2021 The Association of Independent Architectural Photographers™, All Rights Reserved.